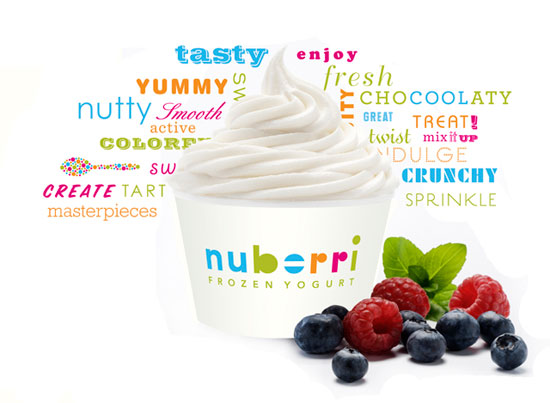 Looking for a tasty gift?
Click here to purchase nuberri gift cards.
---
April 22, 2014
Current flavor lineup:
Blair Stone: plain tart, orange tart, valencia orange sorbet, taro, taronut, coconut, nsa chocolate, moon pie, cheesecake, caramel cheesecake, sea salt caramel pretzel, cake batter, chocolate cake batter, cookies and cream, nsa vanilla, shirley temple, cherry amaretto, candy bar smash, white chocolate moose, espresso, peppermint mocha, chocolate mint.
Midtown: plain tart, mango tango, mango, taro, taronut, toasted coconut, triple chocolate, chocolate cake batter, cake batter, zeusberri, cheesecake, cookies and cream, chocolate mint cookies, chocolate mint, sea salt caramel pretzel, candy bar smash, valencia orange sorbet, strawberri citrus, nsa strawberri, tahitian vanilla, cafe au lait,  espresso
Kerry Forest: vanilla bean, a little less taro, taro, coconut, key lime pie, orange pomegranate,  espresso, nsa strawberri, cookies and cream, chocolate cookie cake, cake batter, cherri amaretto, pushpop, watermelon sorbet,  peanut butter, peanut butter cup, nsa chocolate, cheesecake, caramel pretzel cheesecake, sea salt caramel pretzel

* new flavor
---